What can we fix for you today?
We've iTechs near you that can repair iPhones, iPads, Macs, iMacs, MacBooks, & Apple Watches on the same day and while-you-wait. Best prices guaranteed!

Repair my device
Any time
Any device
Any place
Need it fixed today?
No problem!
iTechnician is your number one choice for iPhone, iPad, Mac, and Apple Watch repair services in the UK. With over 300 iTechs located across the United Kingdom, our quick and affordable services can help you with everything from Apple watch screen repair to cracked iPhone screen repair, iPhone battery replacement, Mac repairs, and much more.
Our online platform matches you with qualified technicians based on availability, skills, and location at affordable prices across the UK. Your Apple device is in good hands with our technicians, who can perform repairs in-shop or with handy call-out services at your home, workplace, or coffee shop.
Get your Apple device up and running smoothly again with the best deals available from our trusted network of iTechs.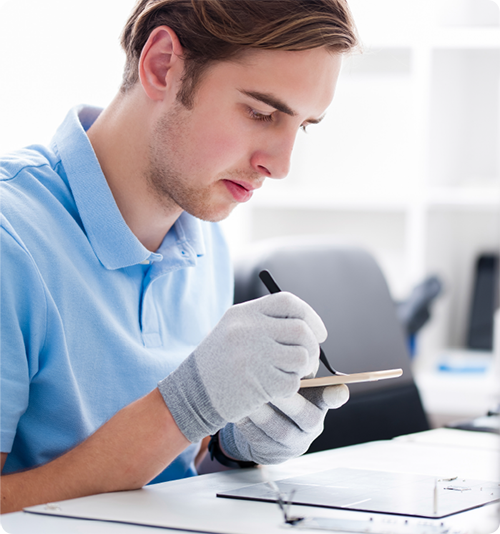 Who we are
Is your Apple device no longer working like it used to? Not working at all? Dealing with a broken or malfunctioning iPhone, iPad, Mac, or Apple Watch shouldn't be a frustrating experience. iTechnician makes it easy, affordable, and convenient to have your Apple device repaired in the UK. Just click on REPAIR MY DEVICE, enter your postcode, and find iTechs near you.
Whether you need iPhone screen replacement, your iPhone isn't charging properly, or you've got a cracked iPad screen or malfunctioning home button, don't stress out - iTechs can take it off your hands and repair your Apple device. Take your device into the nearest iTech repair shop or let them come out to you, wherever you're located.
Why use us
Fair prices
If you haven't opted for AppleCare+ or your device is beyond warranty, Apple device repairs can be prohibitively costly. iTechnician is completely free to use, and the iTechs will repair your device at the best prices.
Professional service
Searching online for "iPhone repair near me" from qualified and experienced technicians? All iTechs are vetted and approved for quality, so you can rest assured that you're dealing with professionals.
iTechs near you
iTechnician operates a network of over 300 independent Apple device repair technicians across the UK. With iTechs covering towns and communities across the UK, find a reliable technician near you today.
Digital
Nationwide service
iTechnician operates a network of over 300 iTechs located in towns and cities across the UK.
Price
Best price guaranteed
Request one or more no-obligation quotes from our vetted and approved iTechs.
Mobile
iTechs come to you
Bring your Apple device into your nearest iTech shop or let them come to you.
Our repair services
iPhone
If you're in need of affordable iPhone repair services in the UK, the iTechs on iTechnician have got you covered.
The technicians can repair any iPhone all the way from earlier versions such as the iPhone 5 all the way to more current models such as the iPhone 13 and iPhone 13 Pro Max. No matter whether you've got a cracked iPhone screen or if it's suffered water damage, the infamous White Screen of Death, or won't hold a charge properly, our iTechs are available to help.
iPad
Look no further than iTechnician for quick and efficient iPad repair services in the UK. Get back to enjoying your tablet for work, study, or entertainment with affordable iPad repairs from qualified and experienced technicians.
For all iPad models ranging from the original iPad (1st generation) to all of the iPad Pro, iPad Mini, and iPad Pro models up to more current models such as the iPad (9th generation), iTechs can repair just about any problem you may be facing. The iTechs can resolve frozen iPad screens, cracked screens, iOS operating and software-related issues, and more.
Mac
If you're in need of reliable Mac repair services for your Mac mini, iMac or MacBook, iTechnician has cost-effective solutions that can restore the full functionality of your beloved Apple device.
We've reliable iTechs that can perform repairs on iMacs and MacBooks, including the Mac Mini, MacBook Air, MacBook Pro, and just about any other Macintosh device. Whether you've got battery problems for your MacBook or you're experiencing problems with power settings or macOS issues, our trustworthy iTechs are ready to help.
Apple Watch
Whether you've got an Apple Watch Series 1 or a newer model, keep it ticking with quality Apple Watch repair services from iTechs located across the UK.
Keep your Apple Watch on your wrist and functioning at peak performance with repair services from qualified iTechs found on iTechnician. Overheating, random rebooting, the inability to charge, or a cracked screen can render your Apple Watch unusable. iTechs can repair any Apple Watch from the Series 1 to newer models such as the Series 7 and the Apple Watch SE.
Reviews
Our customers love us and we're certain you will do too.
Fast Resonse...

"Instant communication and had my iPad fixed within 24 hours."

Anne

Ferndown (Dorset)
iPad Pro

Excellent Service...

"A quick response with a compettitive price. Turnaround time was good, and the technician replaced a missing screw and cleaned the phone which had a partially blocked microphone port. The phone looks almost new now but is actually several yers old."

Edwyn Newman

Edinburgh
iPhone 6S

Fantastic Service...

"When I asked several shops for quotes, Sam from the Leicester store quickly called to answer my enquiry and subsequently provided a quote. From the time he received my iPad on October 16th to the time it was repaired and shipped back to me on October 20th, he gave me updates and we communicated via text messages, which I prefer. He did a great job and I am a happy customer! 👍💐"

Yammy Fung

Derby
iPad 7th Generation

Awesome...

"Camera replacement was as good as new - cheapest price I was offered and only took 25 mins!"

Rose Plummer

Leicestershire
iPhone 13 Pro

Great Service...

"iPad battery replaced and returned in full working order at the repair quote given. Staff pleasant and helpful."

Chris Gardner

Kirkby-in-Ashfield
iPad Pro

Excellent Service...

"Wife dropped her iPhone and then trod on it! Needless to say she broke the screen. I found iTechnician online and emailed same day (Sunday) for a quote. I got a quotation back within the hour which I accepted. I arranged to drop the phone off on the same day and the technician said it would be a couple of days as he had to order the screen. Sure enough, I got a text 2 days later saying my iPhone was ready. I picked the phone up later that same day. One happy wife. Excellent service and very nice technician. Will certainly use iTechnician again."

Ian Perry

Northampton
iPhone 14+

Fantastic Service...

"Great service, great price, friendly and helpful."

Tony

Northamptonshire
iPad Air 2

Awesome...

"First class service with no fuss."

Frank Crawford

Edinburgh
iPhone 11

Amazing Service...

"After making an enquiry online, I got a reply shortly afterwards and had the battery replaced the next day. I was pleased that the replacement was done while I waited and I didn't have to leave the phone. Excellent service all round, I would use iTechnician again."

Keith Skippins

Huddersfield
iPhone 6S